Court Orders Immediate Release of Omah Lay Tems and her Manager from Ugandan Prison Good news as Omah lay, Tems and Temilade Openiyi who were held in Uganda over breach of Covid 19 protocols by the Ugandan police have finally been issued a release order by the court.
After Few days of Battling to be free from the Ugandan Authorities over his performance in the Country, Omaha Lay and Tems are finally freed, this is coming after a video surfaced online showing, Tems discussing with one of the Ugandan Prison Official, Tems told the woman that she's embarking on Hunger Strike that she won't be able to taste any food in Uganda till they're released.
RELATED POST: Buhari Orders increase in Npower intake From 500k to 1Million Beneficiaries
The Incarceration of the Duo Nigerian Singers has truly caused a lot of backlash, many people condemning Ugandan Authorities, and we Gathered that political rallies has been on going in the Country with no Covid 19 safety practises in place.
RELATED POST: Teachers Needed for Immediate employment at Superprof Nigeria
This news was posted by Ugandan's music artiste BebeCool on his twitter handle today. He was also spotted trying to secure the release of the singers. This is coming after his controversial statement against foreign performers.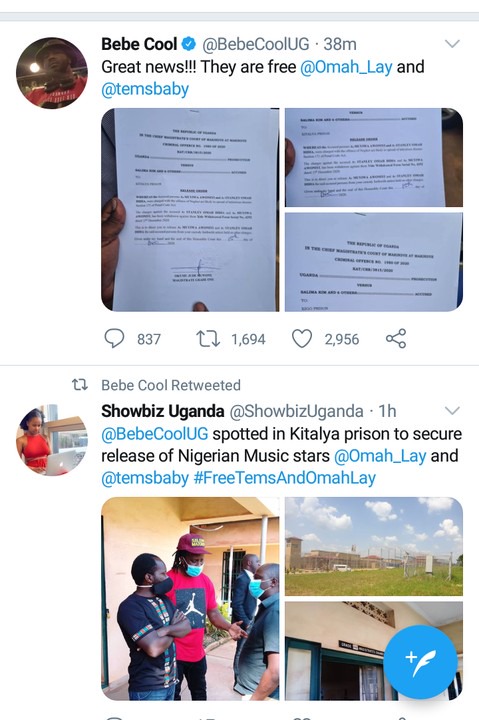 Great news!!! They are free @Omah_Lay and @temsbaby
Your opinion about the whole drama is needed, many people claimed that Bebe Cool is behind the Incarceration of the Duo because he was not billed to perform at the occasion and no Ugandan artist was billed to perform so everything spured out of jealousy for their Nigerian Colleagues or counter part as the case maybe.
RELATED POST: How To Apply For Edo State Civil Service Commission Job Recruitment
Court Orders Immediate Release of Omah Lay Tems and her Manager from Ugandan Prison